Border Security
On May 11, 2023, with my support, U.S. House Republicans passed a comprehensive border security bill. The first step to immigration reform must be securing our borders and this bill does that. We are fulfilling our commitment to Americans to deliver a nation that's safe.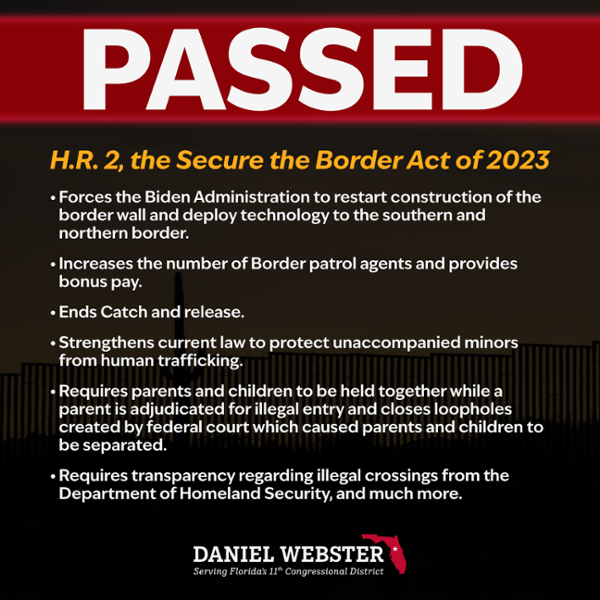 The National Defense Authorization Act for Fiscal Year 2024, or FY24 NDAA, which I recently voted to pass recently, includes numerous provisions to address the border crisis, including
Directing the DoD to inform Congress on how it will utilize, transfer, or donate to border states unused border wall materials for further construction of a border barrier.

Fully funds the National Guard's operation and maintenance account to support a border deployment.

Provides an additional $15 million over the President's request to enable U.S. Northern Command to improve drug interdiction, including fentanyl shipments from China.

Provides an additional $25 million over the President's request for National Guard to work with local law enforcement agencies to disrupt and degrade illicit drug production and trafficking.

Requires DoD to report on its operational needs on the border and support it provides to DHS.
When President Biden took office, his administration reversed the Trump-era policies that helped secure our border and reduce illegal immigration and drug and human trafficking and implemented radical open border policies. Stopping construction of the southern border wall, ending the successful "Remain in Mexico" policy, and ending Title 42, has resulted in the worst border crisis in American history. Under President Biden:
There have been over 5 million illegal border crossings at the southern border.
More than 1.3 million have evaded apprehension at the southern border, according to Border Patrol.
Customs and Border Patrol (CBP) has sized over 14,000 points of fentanyl.
In just the first 3 months of Fiscal Year 2023, 80 individuals on the terrorist watchlist were stopped trying to cross the border.
I will keep advocating for and supporting policies and legislation that secures our borders and sensibly reforms our immigration laws.