Disaster Preparedness
Stay Informed of Local Weather and Disaster Advisories

Hurricane season officially runs from June 1st through November 30th. Follow up-to-date advisories on storms impacting Central Florida and your local community by visiting:



Make sure you have a Disaster Preparedness Plan. Information and tips for building a plan are available at the below links.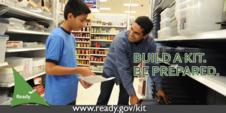 I will also keep constituents informed of disaster assistance efforts in Central Florida through my Twitter account at Twitter.com/RepWebster, my Facebook page at Facebook.com/RepWebster.

Build an Emergency Supplies Kit

A disaster supplies kit is simply a collection of basic items your household may need in the event of an emergency.

Try to assemble your kit well in advance of an emergency. You may have to evacuate at a moment's notice and take essentials with you. You will probably not have time to search for the supplies you need or shop for them.

You may need to survive on your own after an emergency. This means having your own food, water and other supplies in sufficient quantity to last for at least 72 hours. Local officials and relief workers will be on the scene after a disaster but they cannot reach everyone immediately. You could get help in hours or it might take days.

Additionally, basic services such as electricity, gas, water, sewage treatment and telephones may be cut off for days or even a week, or longer. Your supplies kit should contain items to help you manage during these outages.


Click here for a checklist of basic supplies your emergency kit should include.
Click here for steps homeowners can take to minimize hurricane damage
Emergency Management Resources
Citrus County Emergency Management Center
3549 Saunders Way
Lecanto, FL 34461
352-527-2106 and 352-746-5470
Website: (http://www.sheriffcitrus.org/emergency-management.php)
Hernando County Emergency Management Center
18900 Cortez Blvd.
Brooksville, FL 34601
352-754-4083
Website: (http://www.hernandosheriff.org/em/)
Lake County Emergency Management Center
425 W. Alfred St.
Tavares, FL 32778
352-343-9420
Website: (https://www.lakecountyfl.gov/departments/public_safety/emergency_management/)
Marion County Emergency Management Center
692 NW 30th Ave
Ocala, FL 34475
352-369-8100
Website: (http://www.marionso.com/emergency-management/)
Sumter County Emergency Management Center
7375 Powell Road
Wildwood, FL 34785
352-689-4400
Website: (http://sumtercountyfl.gov/718/Emergency-Management)
There are no files to display