Crisis At Our Border
There is a crisis at our border.
In his first 24-hours in office, President Biden signed several Executive Orders that undermine our border security and jeopardize Americans' safety by halting border wall construction and stopping deportations of illegal immigrants, even if they're convicted felons, for 100 days.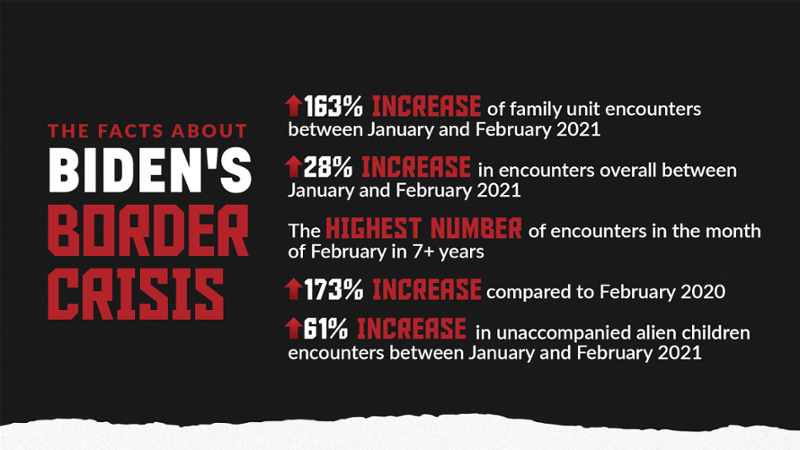 In addition to the increase in illegal border crossings of possible gang members and traffickers, last week, 11 Iranian nationals were caught sneaking into the United States. According to DHS and news reports, the surge is overwhelming capacity at border facilities and contributing to the spread of COVID-19. CBP has had to close highway checkpoints down to conserve resources!
Now, the Biden Administration is placing children in the same facilities he condemned the Trump Administration for using – which many also called "cages." Under the Biden Administration, some of the same people who called them cages are now adopting the kinder, gentler term "Temporary Migrant Facilities." The double standard is on full display, and President Biden's rhetoric and policies have created a crisis at the southern border.
Sadly, President Biden has done more to open our borders than to open our kids' schools. In fact, he lifted CDC guidelines so that ICE and HHS detention facilities can operate at 100% capacity while still demanding actual U.S. citizens are forced to limit capacities in their business and schools.
Democrats and Republicans alike have expressed concern and opposition to the President's action. I have sponsored and advocated for legislation that would protect the integrity of our immigration laws while ensuring that parents and children remain together during their legal proceedings. Additionally, our chief law enforcement officer, Florida Attorney General Ashley Moody, has filed suit against President Biden for failing to fulfill his constitutional responsibility to enforce laws passed by Congress. I will keep advocating for and supporting policies and legislation that secures our borders and sensibly reform our immigration laws.
It is clear, porous borders not only threaten our national security, but they also contribute to the spread of coronavirus and make stopping and apprehending MS-13 and other gang members more difficult. We must secure our border. We must finish building the wall. Walls matter. We have them to protect our children in schools. We have barriers to provide security at our airports. Americans live in gated communities - including many Democrats, current members of Congress, and former Presidents - in the name of safety and security.