Press Releases
Webster Cuts His Congressional Salary
Washington, DC - Today, Congressman Daniel Webster (R-Clermont) delivered a check to the Bureau of the Fiscal Service at the Department of the Treasury. Every year since being elected, Rep. Webster has delivered a check to the Bureau to rollback his salary to the 2008 amount.
"For too long Washington has operated under the mindset that if money is collected, it should be spent," said Rep. Webster. "As an advocate of reducing spending, every year I return money from my salary back to the American taxpayers."
Although this may appear to be a small action given the trillions of dollars the federal government spends, it is a step in the right direction. If all government spending was rolled back to the 2008 amounts, we would have a balanced federal budget.
In coming days, Congressman Webster will also announce the return of taxpayer dollars saved from his office budget in 2017. Congressman Webster has been committed to evaluating his purchases, discovering areas of waste, and carefully handling the funds that he has been allotted.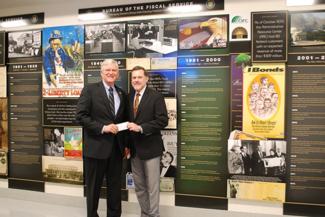 ###