Press Releases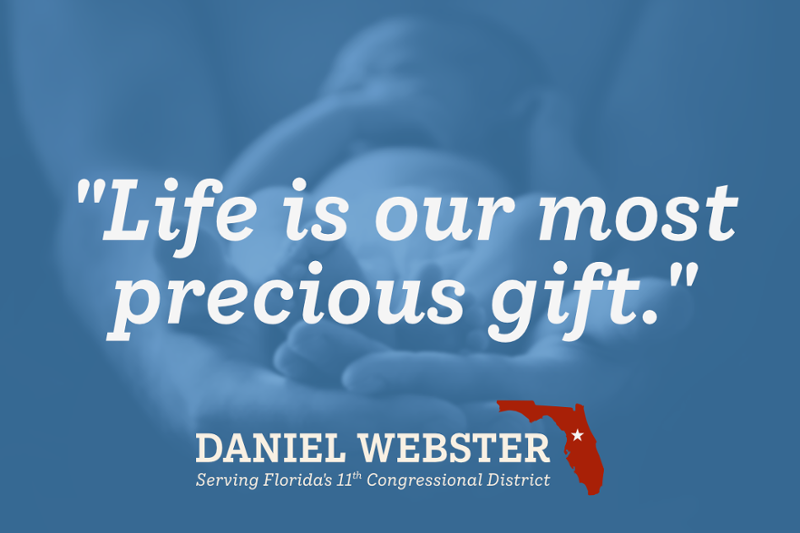 Washington, D.C. —
Yesterday, Florida Congressman Daniel Webster, R-Clermont, joined Rep. Andrew Clyde (R-GA), and nearly 90 members of Congress to introduce the "
Protect the UNBORN (Undo the Negligent Biden Orders Right Now) Act.
This bill would prohibit the implementation of and funding for President Biden's pro-abortion Executive Orders.
"Life is our most precious gift, something national leaders should work to protect, not undermine,"
said Rep. Webster
. "President Biden's Pro-Abortion Executive Orders are another attempt by Democrat leaders to circumvent state laws and promote abortion up until birth.
"I will continue to defend the rights of the unborn, to stand for life and oppose attempts to remove nearly all pro-life protections for the unborn at both the state and federal levels. I have helped create programs proven to equip at-risk families to establish safe, stable, and nurturing homes. I will keep fighting to protect the lives of the unborn, pregnant moms, children in the foster care system and young families, while also fighting against executive overreach."
Additional sponsors include: Representatives Robert Aderholt (AL-04), Rick Allen (GA-12), Jodey Arrington (TX-19), Brian Babin (TX-36), Don Bacon (NE-02), Jim Baird (IN-04), Troy Balderson (OH-12), Jim Banks (IN-03), Jack Bergman (MI-01), Andy Biggs (AZ-05), Gus Bilirakis (FL-12), Dan Bishop (NC-09), Lauren Boebert (CO-03), Mike Bost (IL-12), Ken Buck (CO-04), Kat Cammack (FL-03), Buddy Carter (GA-01), Madison Cawthorn (NC-11), Ben Cline (VA-06), Michael Cloud (TX-27), Rick Crawford (AR-01), Warren Davidson (OH-08), Byron Donalds (FL-19), Jeff Duncan (SC-03), Jake Ellzey (TX-06), Ron Estes (KS-04), Randy Feenstra (IA-04), Michelle Fischbach (MN-07), Chuck Fleischmann (TN-03), Scott Franklin (FL-15), Matt Gaetz (FL-01), Bob Gibbs (OH-07), Louie Gohmert (TX-01), Bob Good (VA-05), Lance Gooden (TX-05), Marjorie Taylor Greene (GA-14), Glenn Grothman (WI-06), Michael Guest (MS-03), Andy Harris (MD-01), Vicky Hartzler (MO-04), Jody Hice (GA-10), Bill Huizenga (MI-02), Ronny Jackson (TX-13), Bill Johnson (OH-06), Dusty Johnson (SD-At Large), Mike Johnson (LA-04), Jim Jordan (OH-04), Fred Keller (PA-12), Mike Kelly (PA-16), Trent Kelly (MS-01), Doug LaMalfa (CA-01), Doug Lamborn (CO-05), Jake LaTurner (KS-02), Debbie Lesko (AZ-08), Billy Long (MO-07), Barry Loudermilk (GA-11), Tracey Mann (KS-01), Brian Mast (FL-18), Lisa McClain (MI-10), David McKinley (WV-01), Carol Miller (WV-03), Mary Miller (IL-15), John Moolenaar (MI-4), Alex Mooney (WV-02), Barry Moore (AL-02), Markwayne Mullin (OK-02), Greg Murphy (NC-03), Troy Nehls (TX-22), Ralph Norman (SC-05), Steven Palazzo (MS-04), August Pfluger (TX-11), Bill Posey (FL-08), Guy Reschenthaler (PA-14), John Rose (TN-06), Matt Rosendale (MT-At-large), Chip Roy (TX-21), Austin Scott (GA-08), Adrian Smith (NE-03), Jason Smith (MO-08), Pete Stauber (MN-08), Elise Stefanik (NY-21), Greg Steube (FL-17), Glenn Thompson (PA-15), William Timmons (SC-04), Jeff Van Drew (NJ-02), Mike Waltz (FL-06), Randy Weber (TX-14), Brad Wenstrup (OH-02), and Roger Williams (TX-25).
Bill text can be found here
.
###