Press Releases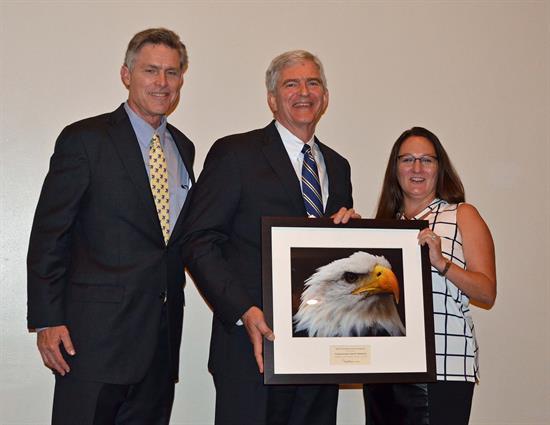 The below was released by Audubon Florida.
PRESS RELEASE
For Immediate Release: October 31, 2016
Contact: Sean Cooley, Communications Manager, 850-999-1030, scooley@audubon.org
Twitter: @AudubonFL
Congressman Webster Recognized for Everglades Efforts
Audubon Florida names Congressman Webster as a Champion of the Everglades
TALLAHASSEE, Fla. – U.S. Congressman Daniel Webster (FL-10) was presented with Audubon Florida's Champion of the Everglades award this weekend for his leadership in Everglades conservation. Audubon Florida presented this award at the annual Audubon Assembly in St. Petersburg Beach, Florida. The sold out Audubon Assembly is Florida's signature conservation event and brought together more than 300 of Florida's conservation leaders.
Audubon Florida presents the Champion of the Everglades award each year to a person who has gone above and beyond to protect South Florida's water and wildlife. Previous award recipients include Nathaniel Reed, Senator Bob Graham and Governor Jeb Bush. The award is reserved for those with a demonstrated high level of commitment to protecting the Everglades.
This year's award went to Congressman Webster for his leadership in getting Everglades restoration legislation passed in the U.S. House of Representatives.
Julie Hill-Gabriel, Audubon Florida Deputy Director for Policy said, "Congressman Webster has shown extraordinary leadership on behalf of the Everglades. He has galvanized support in the U.S. Congress for policies that advance restoration projects and improve regional water resources. Congressman Webster is a true unspoken hero, and we are proud to name him this year's Champion of the Everglades."
Through his senior position on the U.S. House Transportation and Infrastructure Committee, Congressman Webster helped usher through two Water Resources Development Acts (WRDA) since 2014, which have paved the way for the Central Everglades Planning Project, Broward County Water Preserve Areas, Biscayne Bay Coastal Wetlands, C-43 West Basin Caloosahatchee Reservoir and the C-111 Spreader Canal.
###