Press Releases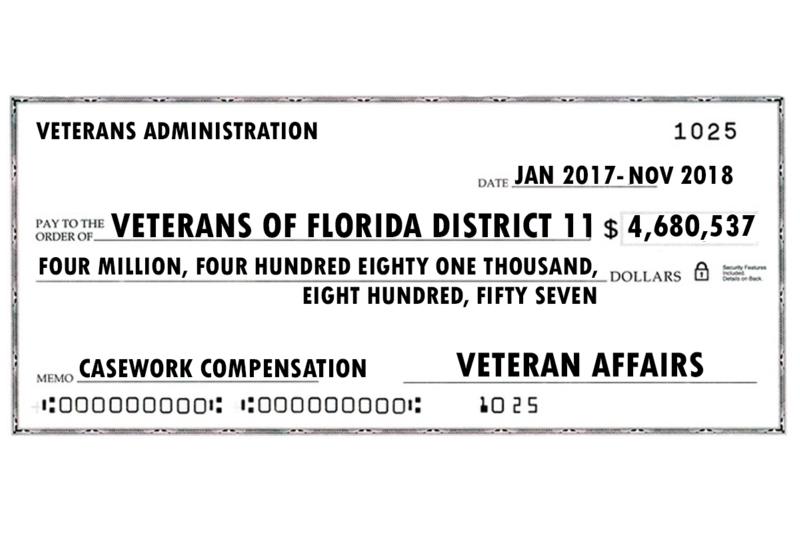 WEBSTER'S OFFICE SURPASSES $4.5 MILLION RETURNED TO VETERANS
Minneola, FL – Today, Congressman Daniel Webster, R-Clermont, announced that more than $4.5 million has been returned to veterans in his district in compensation, pension or retroactive payments since January 2017.
"Serving veterans is one of my top priorities," said Rep. Daniel Webster. "We owe them a debt we can never repay. Yet, too often, our veterans' attempts to receive the benefits or compensation they have earned are met with delays. I am pleased that we have been able to intercede on behalf of so many constituent veterans to ensure they receive the services and compensation they have earned. I am committed to continuing to work to improve service quality and efficiency for our veterans."
Webster's office staff works diligently with liaisons and County Veteran Service offices to provide necessary or missing paperwork to the VA or to obtain status updates for Congressional District 11 veterans. If you need assistance with a federal agency issue, call our district office at 352-241-9220.
Casework Examples:
A veteran in Homosassa contacted my office for assistance with his appeal of the VA denial of his 2012 disability claim. An inquiry was submitted on his behalf, and for several months office staff stayed in touch with the Board of Veterans Appeals (BVA) to track its movement through the process and ensure it was not lost or forgotten. After several months, the constituent called to report he had received a nearly $50,000 deposit and wanted confirmation it was correct. BVA did confirm that it was indeed accurate.
A veteran in Wildwood contacted my office for assistance for his monthly benefit check. The VA had deposited one benefit check and a retroactive payment he was owed into the wrong bank account. Issued checks sent by mail had never been received. Following a request by our office for checks to be reissued and a written summary of the information the VA had on file for the veteran, information was received and a month later the $6,000 owed was direct-deposited into the veterans account.
A veteran in Dunnellon contacted my office regarding the status of his claim stemming from his Agent Orange exposure. My office submitted an inquiry on his behalf and provided the VA regional office with evidence which would hopefully meet the VA's criteria and expedite the claim. We learned the VA was moving on the issue and expected to have it completed within 90 days. Three weeks later, the VA reported that the rating decision had been made and the notification letter had been sent to the constituent.
A veteran in Tavares contact our office about an appeal that was remanded by the Board of Veterans Appeals. My office submitted an inquiry and followed up with the veteran service officer working to obtain background information on the claim. Because the veteran was homeless, he was also put in touch with a shelter who could help with the immediate needs. This information was provided to the VA and to expedite the appeal. Efforts were made to obtain the DD214 which was necessary to complete the appeal. We followed up with the Appeals Management Office for a status update and learned that it had indeed been flagged as a hardship and was now marked Ready for Decision. Two issues were completed with a third remanded for additional work, which we continued to follow. It was a pleasure to learn that all issues were completed, resulting in a retroactive payment of over $85,000. In addition, the VA enrolled the veteran in a service dog training program.
A constituent in Brooksville whose 2008 claim was now a form 9 appeal and appeared to be stuck in the muck of bureaucracy, contacted us for help. It wasn't long before we learned that the appeal was back at the BVA for review by a Veterans Law Judge as the original denial had once again been upheld. As the veteran's docket date approached, we contacted the service organization to make them aware they had not yet reviewed the veteran's file prior to the Law Judge's review. Once this was done and returned to the BVA, the judge's review was completed - overturning the original denial and granting an award resulting in a retro payment of over $170,000.
###