Press Releases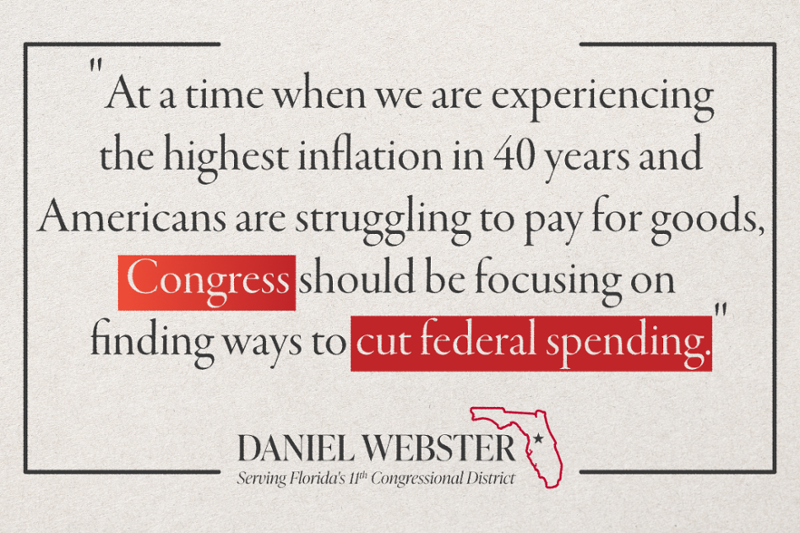 Webster on House Spending Bills
Washington, D.C. —
Florida Congressman Daniel Webster, R-Clermont, released the following statement on the House's appropriations package, H.R. 8294.
"I ran for office pledging to do my part to stop the spigot of spending and get our fiscal house in order. This partisan spending package does the opposite of that, and I will not break my pledge to my constituents and the American people.
"At a time when we are experiencing the highest inflation in 40 years and Americans are struggling to pay for goods, Congress should be focusing on finding ways to cut federal spending. Instead, this out-of-control spending package would further drive inflation and prioritizes liberal initiatives that are out of touch with everyday Americans.
"Hardworking taxpayers make tough financial decisions to stay within their budget. They expect their representatives to do the same. I have supported and introduced legislation that prioritized and reduced spending. Democrats continue to reject commonsense budgeting, refuse to work with Republicans and despite skyrocketing inflation, choose to spend recklessly. For these reasons, I must vote against this spending bill."
Background on H.R. 8294:
Fuels inflation by increasing federal spending.
Prioritizes climate initiatives instead of addressing the energy crisis.
Abandons longstanding policy protecting life and allows for taxpayer funds to be used for abortions.
Puts America last by increasing non-defense program spending and neglects investment in defense programs.
Encourages illegal immigration by prohibiting immigration checks on residents of HUD-assisted housing.