Press Releases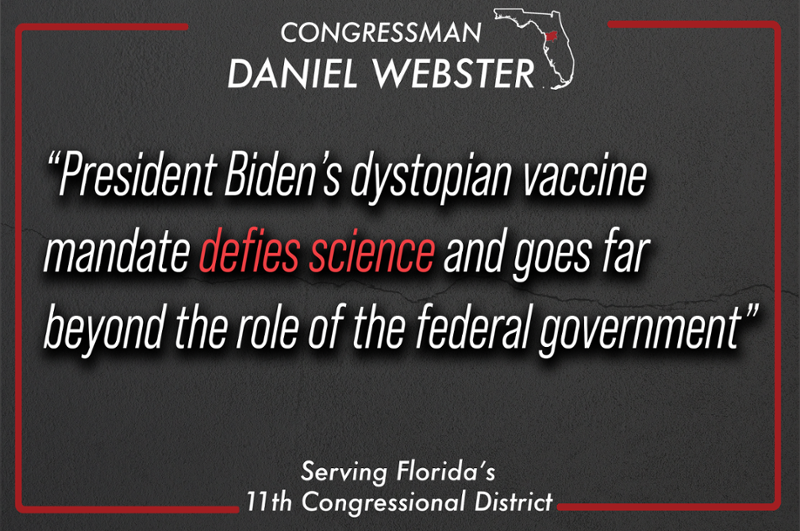 Webster and Colleagues Introduce Resolution to Nullify Biden's Unconstitutional Vaccine Mandate
Washington, DC – Florida Congressman Daniel Webster (R-Clermont) joined Congressman Fred Keller (PA-12) and 160 colleagues to introduce a Congressional Review Act (CRA) resolution to formally disapprove of and nullify President Joe Biden's unconstitutional vaccine mandate imposed on America's job creators and workers.
The Biden Administration recently released details on the Occupational Safety and Health Administration's (OSHA) Emergency Temporary Standard mandating vaccination requirements for employees at private businesses with more than 100 employees. The rule will affect more than 80 million Americans and impose $14,000 fines for persons who do not comply.
"I am opposed to vaccine mandates; healthcare decisions should be between an individual and their health care provider - not the result of demands by Washington politicians," Congressman Webster said. "President Biden's dystopian vaccine mandate defies science and goes far beyond the role of the federal government by strong-arming employers and threatening the right of millions of Americans to earn a living. I will continue to work with my colleagues to defend the freedoms of the American people."
"The broad support that our Congressional Review Act resolution has garnered sends a clear message to President Biden: The American people are fed up with the mandates and government control," Congressman Keller said. "Our nation faces a host of crises created by this administration, including supply chain challenges and skyrocketing costs for everyday goods and services. President Biden's illegal vaccine mandate is crippling for Main Street job creators and workers. We will continue to do everything we can to oppose this authoritarian rule."
Full bill text can be found here. Senator Mike Braun (R-IN) also introduced a companion bill in the Senate, garnering support of all 50 Republican Senators.
Additional House co-sponsors include: Minority Leader Kevin McCarthy (CA-23), Whip Steve Scalise (LA-01), Conference Chair Elise Stefanik (NY-21), and Representatives Scott Perry (PA-10), Bob Latta (OH-05), Jackie Walorski (IN-02), August Pfluger (TX-11), Chip Roy (TX-21), Dan Meuser (PA-09), Pete Stauber (MN-08), Jeff Duncan (SC-03), Ralph Norman (SC-05), Mike Gallagher(WI-08), Michael Cloud (TX-27), Jason Smith(MO-08), Warren Davidson (OH-08), Tom McClintock (CA-04), Mike Bost (IL-12), Garret Graves (LA-06), David Rouzer (NC-07), Jay Obernolte (CA-08), Mike Garcia (CA-25), John Rutherford (FL-04), Kat Cammack (FL-03), Rick Crawford (AR-01), Mike Johnson (LA-04), Clay Higgins (LA-03), Tom Tiffany (WI-07), Stephanie Bice (OK-05), Dan Newhouse (WA-04), Robert Aderholt (AL-04), Bob Gibbs (OH-07), French Hill (AR-02), Barry Moore (AL-02), Lauren Boebert (CO-03), Pete Sessions (TX-17), Kevin Hern (OK-01), Michael Guest (MS-03), Troy Balderson (OH-12), Jack Bergman (MI-01), Greg Steube (FL-17), Guy Reschenthaler (PA-14), Mike Simpson (ID-02), Steve Womack (AR-03), Tom Emmer (MN-06), Alex Mooney (WV-02), Blake Moore (UT-01), Trey Hollingsworth (IN-09), Andy Biggs (AZ-05), Tom Cole (OK-04), Michelle Fischbach (MN-07), Frank Lucas (OK-03), Jake LaTurner (KS-02), Greg Pence (IN-06), Ted Budd (NC-13), Bill Huizenga (MI-02), Vicky Hartzler (MO-04), Cathy McMorris Rodgers (WA-05), Barry Loudermilk (GA-11), Lloyd Smucker (PA-11), Roger Williams (TX-25), Bruce Westerman (AR-04), Gary Palmer (AL-06), Steve Chabot (OH-1), David McKinley (WV-01), Tracey Mann (KS-01), Tim Burchett (TN-02), Dan Bishop (NC-09), John Joyce (PA-13), Beth Van Duyne (TX-24), Darrell Issa (CA-50), Earl "Buddy" Carter (GA-01), Yvette Herrell (NM-02), Mike Kelly (PA-16), Mike Burgess (TX-26), Matt Rosendale (MT-AL), Sam Graves (MO-06), Brian Babin (TX-36), Nicole Malliotakis (NY-11), Gus Bilirakis (FL-12), Lance Gooden (TX-05), Mark Amodei (NV-02), Jim Hagedorn (MN-01), John Moolenaar (MI-04), Claudia Tenney (NY-22), Brian Mast (FL-18), Brad Wenstrup (OH-02), Bill Johnson (OH-06), Doug Lamborn (CO-05), Jody Hice (GA-10), Patrick McHenry (NC-10), Ben Cline (VA-06), Morgan Griffith (VA-09), Dusty Johnson (SD-AL), Chris Jacobs (NY-27), Vern Buchanan (FL-16), Lee Zeldin (NY-01), Adrian Smith (NE-03), Scott Franklin (FL-15), Pat Fallon (TX-04), Virginia Foxx (NC-05), Joe Wilson (SC-02), GT Thompson (PA-15), Tim Walberg (MI-07), Glenn Grothman (WI-06), Rick Allen (GA-12), Jim Banks (IN-03), James Comer (KY-01), Russ Fulcher (ID-01), Greg Murphy (NC-03), Mariannette Miller-Meeks (IA-02), Burgess Owens (UT-04), Bob Good (VA-05), Lisa McClain (MI-10), Diana Harshbarger (TN-01), Mary Miller (IL-15), Victoria Spartz (IN-05), Scott Fitzgerald (WI-05), Madison Cawthorn (NC-11), Michelle Steel (CA-48), Julia Letlow (LA-05), Neal Dunn (FL-02), Ron Estes (KS-04), Randy Feenstra (IA-04), Andrew Garbarino (NY-02), Drew Ferguson (GA-03), Don Bacon (NE-02), Jerry Carl (AL-01), William Timmons (SC-04), Bryan Steil (WI-01), Matt Gaetz (FL-01), Kelly Armstrong (ND-AL), Blaine Luetkemeyer (MO-03), Larry Buschon (IN-08), Andy Barr (KY-06), Van Taylor (TX-03), Brett Guthrie (KY-02), Mo Brooks (AL-05), Anthony Gonzalez (OH-16), Chris Smith (NJ-04), Andy Harris (MD-01), Byron Donalds (FL-19), Debbie Lesko (AZ-08), Thomas Massie (KY-04), Richard Hudson (NC-08), Ashley Hinson (IA-01), John Rose (TN-06), Devin Nunes (CA-22), Peter Meijer (MI-03), Bill Posey (FL-08), Mike Rogers (AL-03), Nancy Mace (SC-01), Rob Wittman (VA-01), Mike Turner (OH-10), Jake Ellzey (TX-06), Kay Granger (TX-12), Adam Kinzinger (IL-16), David Kustoff (TN-08), Andrew Clyde (GA-09), Randy Weber (TX-14), Dave Joyce (OH-14), Markwayne Mullin (OK-02), Liz Cheney (WY-AL), Jim Baird (IN-04), Kevin Brady (TX-08), David Schweikert (AZ-06), Carol Miller (WV-03), and Jeff Fortenberry (NE-01).
###