Press Releases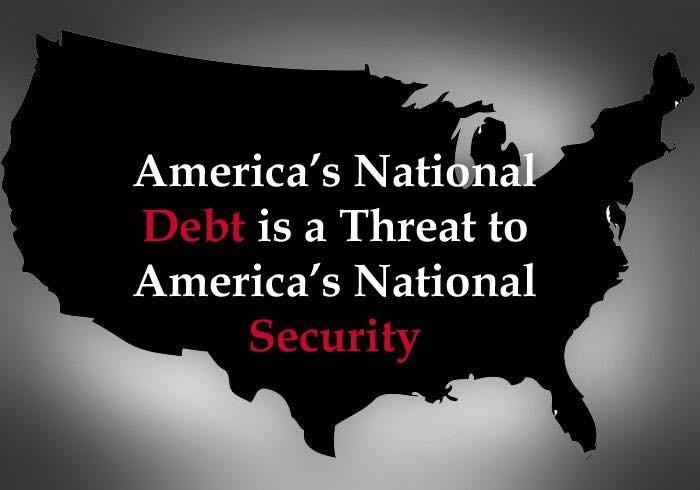 Members of Congress Introduce Resolution To Recognize the National Debt as a Threat to National Security
WASHINGTON, D.C. – Today, Congressman Andy Biggs (AZ-05) and Senator David Perdue (R-Georgia) introduced resolutions in the House and Senate to recognize America's national debt as a threat to our national security. Earlier this month, the national debt reached $22 trillion. Congressman Biggs, Senator Perdue, and other cosponsors released the following statements:
"National security experts have long warned us that our massive debt is one of our biggest national security threats. With U.S. debt recently surpassing $22 trillion, soon we will spend more paying down interest on our debt than on national defense. I do not accept the standard Washington presumption that nothing in the budget can be cut in order to fund important priorities without increasing the deficit. Hardworking taxpayers make tough spending decisions to stay within their budget and expect their representatives in government will do the same." – Congressman Daniel Webster (FL-11)
"We introduced this resolution because the United States is racing towards a fiscal cliff. Congress is taking few measures to solve this problem, and it is beyond time for our colleagues in both chambers to become serious about balancing the nation's budget and recognize this issue as a threat to our national security.
"America has a spending problem, not a revenue problem. While the United States is producing record federal revenue, Congress has failed to pass balanced budgets. If we do not change our course, we will be responsible for one of the worse catastrophes this nation has ever experienced: the crash of the American economy and the demise of a superpower. I thank Senator Perdue and my colleagues for their leadership on this issue." – Congressman Andy Biggs (AZ-05)
"The single greatest threat to our national security is our national debt, and it's time Washington comes to grips with that reality. This month, our national debt topped $22 trillion. This news should have sounded alarms throughout Washington, but bureaucrats and career politicians didn't even blink an eye. Ultimately, the debt impacts our ability to fund priorities, like providing our men and women in uniform with the resources they need to protect Americans. This debt crisis will only get worse, and if we don't act now, our country will lose the ability to do the right thing." – Senator David Perdue (R-Georgia)
"The $22 trillion national debt is crippling our country. In a few short years, interest payments on our debt will outpace all defense spending. That is a stark and sobering statistic which lays bare the real national security threat our debt crisis is creating." – Congressman Kelly Armstrong (ND-At Large)
"Throughout my time in Congress, I've voted for responsible budgets that prioritize necessary spending, eliminate waste and end programs inappropriate for federal government expenditures. Unfortunately, even as our national debt and its threat to future generations have ballooned, too few in Washington are willing to take tough votes necessary to curb spending and protect our solvency. It is important we recognize the threat associated with a $22 trillion – and growing – national debt. While it is doubtful Democrats allow a spending bill addressing this issue to move forward, I will continue advocating for responsible spending of taxpayer funds for as long as I am in Washington." – Congressman Brian Babin (TX-36)
"At a staggering $22 trillion, the national debt is suffocating Americans. While we can't undo our past, we can work toward a better future, especially for the millions of young Americans who will bear the burden of this growing debt in their sunset years. It's time we find responsible solutions that curb government waste of taxpayers' dollars contributing to the national debt." – Congressman Troy Balderson (OH-12)
"I came to Congress to advance real solutions that address what I consider to be the biggest threat to America: our unconscionable national debt. Congress' fiscal irresponsibility presents a serious threat to our national security and jeopardizes America's economic stability. We cannot continue to disregard our duty to future generations. I am glad to join my colleagues in cosponsoring this important resolution." – Congressman Ken Buck (CO-04)
"Our nation's debt is out of control. We need to rein in spending and start paying down debt, and you can't get serious about either one of those without a balanced budget. The State of Tennessee and most of our local governments pass balanced budgets each year. Families across the country sit at the dinner table balancing their checkbooks and living within their means, so why can't the federal government do the same?" – Congressman Tim Burchett (TN-02)
"I promised the citizens of Virginia's Sixth Congressional District last fall I would bring four words to Washington – 'we can't afford it.' I am proud to stand with Rep. Biggs and my fellow co-sponsors to bring fiscal responsibility to Washington. As then-Joint Chiefs Chairman Admiral Mike Mullen said in 2010, our national debt is not only a threat to our economy, but it is also a threat to our national security. It is my hope that Members of Congress will get serious about reigning in spending, balancing our budget, and paying down our national debt." – Congressman Ben Cline (VA-06)
"The liberal media may have just noticed, but the Obama Administration doubled the national debt in eight years, despite raising taxes on small businesses and the middle class. In reality, no amount of taxation will ever pay for liberals' Big Government agenda. It's impossible to calculate the cost of the Green New Deal, Medicare for All, free college, and welfare benefits for illegal aliens. Though Republicans cut taxes to return their money to Americans who earned it, the economy is growing, and the rate of debt increase has slowed, establishment politicians in both parties have failed to address out-of-control spending, the true problem. Much of it is unauthorized or on auto-pilot. Fraud and waste amount to billions of dollars every year. Interest payments account for a larger and larger share of federal spending. My constituents in Tennessee can rely on me to vote the way they would in Congress to rein in reckless spending – a threat to Social Security, Medicare, even national security. We cut income taxes. Now let's cut spending that serves only bureaucrats, their political cronies and special interests in Washington." – Congressman Scott DesJarlais (TN-04)
"The staggering national debt is one of the main reasons I came to Congress. It's evident that Washington has a spending problem, not a revenue problem. If we don't start making spending cuts and implementing real reforms as soon as possible, we put our economy and our national security at great risk. We can't keep sitting back and saddling the next generation with over $22 trillion in debt and putting our nation in danger – we must act on this national security crisis. We need fiscal sanity to be restored in Washington." – Congressman Jeff Duncan (SC-03)
"For far too many years, Congress has failed to provide the American people with a fiscally responsible balanced budget, opting instead to repeatedly raise the debt ceiling. Our current national debt of over $22 trillion poses a grave threat to the security of our country and signifies a radical departure from the founders' vision for how Congress manages taxpayer dollars. I support Congressman Biggs' resolution recognizing the national debt as a threat to our national security and I call on my colleagues to express their commitment to being good stewards of taxpayer dollars." – Congressman Matt Gaetz (FL-01)
"Due to Congress' reckless spending habits, America is heading toward a catastrophic event that will wipe out pensions and retirement benefits. If we keep on this destructive path, Congress will be forced to slash eligibility for social security and reduce benefits that Americans have been paying for and counting on for years. We must put an end to this blind spending." – Congressman Paul Gosar, D.D.S. (AZ-04)
"Even with the improving economy, in the last fiscal year the federal government borrowed about 19% of its budget. This was, in part, because of massive increases in discretionary spending, cheered on by members of Congress from both parties." – Congressman Glenn Grothman (WI-06)
"Our national debt represents a looming crisis that we must address. The United States has not had a balanced budget since 1997, and as of December, our total public debt is officially larger than our GDP. We must recognize that the national debt is a threat to our national security, and take immediate steps to balance our budget." – Congressman Andy Harris (MD-01)
"Anyone who isn't alarmed by the $22 trillion national debt is living in a fantasy world. Fiscal responsibility is at the core of a well-protected and secure nation. With unchecked federal spending and no balanced budget, we put the safety of every American at risk. The consequences of Congressional inaction will be detrimental to the next generation and the country we hand down to them." – Congressman Kevin Hern (OK-01)
"There's no denying that we're in trouble when it comes to our national debt. It's simply out of control. The deficit has climbed well beyond $22 trillion, and Washington continues to kick the can on balancing our books to ensure that future generations aren't saddled with colossal debt. As we dig ourselves more and more into this hole, our ability to fund what's really and truly necessary to run this country becomes more and more difficult. That's why I'm proud to support this resolution that reaffirms our priorities and ensures long-term sustainability for our Nation for years to come." – Congressman Jody Hice (GA-10)
"For years now, our nation's top military officials have testified before Congress that the greatest threat to our national security is our national debt. A continued pattern of reckless federal spending is not only irresponsible, it is dangerous. We have a moral obligation to restore fiscal sanity to the Congress so that our children and grandchildren have the opportunity to enjoy the same blessings of liberty that we have. That starts with recognizing the true cost of our actions." – Republican Study Committee Chairman Mike Johnson (LA-04)
"The American people sent us to Washington to change the status quo and reduce out-of-control government spending. It's time to do what we said." – Congressman Jim Jordan (OH-04)
"The federal government must live within its means. Our future generations are going to be crippled with debt if the federal government cannot get its fiscal house in order. With our debt at over $22 trillion, we must act to preserve our national security and give our economy the stability it needs." – Congresswoman Debbie Lesko (AZ-08)
"It is unacceptable that for decades, Congress has failed to manage its budget responsibly. This negligence is not only unsustainable and irresponsible, but it's a threat to our national security. I am proud to be a part of this legislation, led by Rep. Biggs, that immediately addresses our Nation's fiscal crisis." – Congressman Roger Marshall, M.D. (KS-01)
"Our national debt has topped $22,000,000,000,000 and poses an existential threat to the U.S. I am proud to cosponsor this resolution recognizing that the fiscal crisis we face is a national security threat. The security of the next generation of Americans depends on addressing this crisis. Congress must work together to reduce the unsustainable national debt through regular order." – Congressman Dan Newhouse (WA-04)

"Extraordinarily difficult days lie ahead for this nation if we cannot recognize $22 trillion in debt for what it is: a threat to national security. We must get our fiscal house in order, and that process begins with a simple resolve to balance the budget." – Congressman Ralph Norman (SC-05)

"Our National debt continues to grow without any regard for the consequences. I'll continue to fight with my colleagues to demand action because our current National debt severely limits our ability to respond to fiscal and military crises. I appreciate Congressman Biggs' leadership on this issue and am proud to support this proposal." – Congressman Scott Perry (PA-10)
"It's time for Congress to finally start taking our budget crisis seriously. Our budget process is broken and out of control. We're playing with our country's future – we need to act to fix this." – Congressman Lloyd Smucker (PA-11)
"We cannot in good conscience ask the American people to be responsible with their personal finances, while their Congress and government continues an out-of-control spending spree. With our national debt now topping over $22 trillion dollars, and growing, this weight on our national finances is a clear and present danger to our national security." – Congressman Ross Spano (FL-15)
"For far too long, Congress has failed to act on the growing national debt. This negligence is a direct threat to our national security and puts our country at risk. I am committed to putting security over politics and finally getting our federal budget back on track." – Congressman Greg Steube (FL-17)
"The federal government has blindly spent taxpayer and borrowed dollars for decades with little thought of sustainability or responsibility. Many of these expenditures have zero return to the taxpayer, while funding for economic investments like infrastructure are ignored. Today, that puts us in a position where our national debt is a fiscal crisis and a threat to the security of our nation. We find ourselves in these crisis situations – such as raising the debt ceiling – because Congress has failed to address our spending problems, which is why I continue advocating for a return to fiscal responsibility and balanced budgets. I'm grateful for my colleagues' work in bringing attention to this issue." – Congressman Bruce Westerman (AR-04)
"Since 1997, Congress has failed to do its job to maintain a fiscally responsible budget. Time and time again, we have relied on raising the debt ceiling, and just recently, our national debt hit a record $22 trillion. As I've said before, our country does not have a revenue problem, we have a spending problem. The President's National Security Strategy highlights the need to reduce the debt in order to maintain our nation's military power, and for this reason, and I am proud to cosponsor Rep. Andy Biggs' resolution to recognize the national debt as a threat to national security." – Congressman Roger Williams (TX-25)
###