Press Releases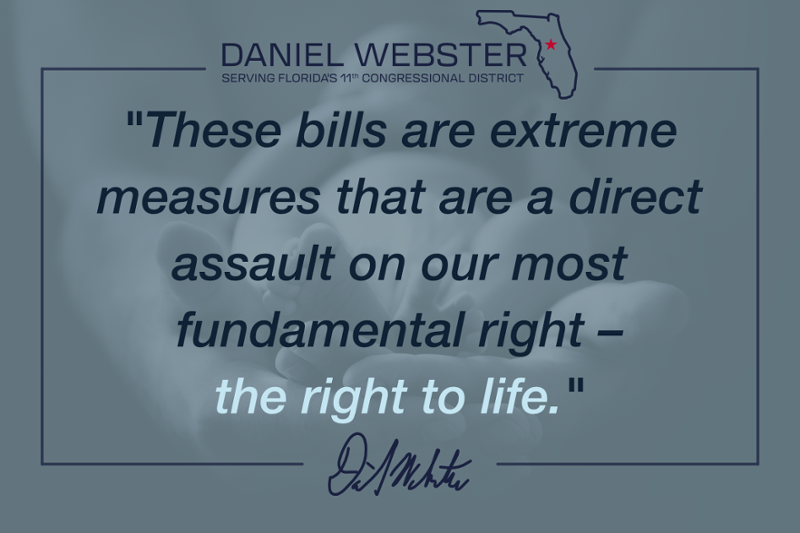 Washington, D.C. — Florida Congressman Daniel Webster, R-Clermont, released the following statement regarding H.R. 8296, which allows abortions on demand, for any reason, at any stage, up until birth, and H.R. 8297 which subverts states' authority on abortion.
"Today, the House voted on two extreme bills that are a direct assault on our most fundamental right – the right to life. These bills seek to abolish existing state laws preventing late-term abortions and create a national standard permitting late term abortions without health standards and accountability that protects women, particularly minority women. Furthermore, these bills would prohibit states from acting on an individual's ability to travel across state lines in order to obtain an abortion.
"Many pro-choice supporters claim they want abortions to be only for 'rare and uncommon' circumstances, but that's not what H.R. 8296 does. It promotes the abhorrent practice of eugenics by allowing an unborn child to be killed because they possess an undesirable sex, race, or disability.
"I have fought to defend the rights of the unborn, to stand for life and oppose attempts to remove nearly all pro-life protections for the unborn at both the state and federal levels. I have helped create programs proven to equip at-risk families to establish safe, stable and nurturing homes. I will keep fighting to protect the lives of unborn, pregnant moms, children in the foster care system and young families."