Press Releases
House GOP Passes Tax Cuts and Jobs Act
November 16, 2017
COMING SOON: TAX RELIEF FOR FLORIDA FAMILIES
House GOP Passes Tax Cuts and Jobs Act
Washington, D.C. – Today, House Republicans overwhelmingly voted to pass the largest tax reform and cut for Americans in more than thirty years.
"As I have long said, America isn't broken, Washington is," said Congressman Daniel Webster (R-Clermont). "With the passage of this bill the era of Washington's broken tax code punishing taxpayers is coming to an end. With this bill, we are creating a fair, simple tax system that allows Americans to keep more money in their pockets, ends lobbyist loopholes and special-interest exemptions, and makes everyone play by the same rules."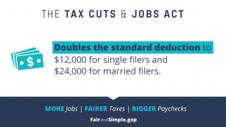 The Tax Cuts and Jobs Act lowers the individual tax rates and doubles the standard deduction – providing tax relief to average Americans. The bill also increases the Family and Child Tax Credit to $1,600 and provides an additional $300 for each parent and non-child dependent. The bill recognizes and celebrates the economic engine that is our small business community by slashing their tax rate to 25%, down from the current rate of 35%. This means more money in the pockets of small business owners who provide jobs and salaries for so many of our neighbors, friends and family.
Rep. Webster further noted, "With nearly 80% of filers in Florida's congressional district 11 already claiming the standard deduction, my constituents will receive one the largest reductions in the nation."
According to an analysis by the nonpartisan Tax Foundation, Florida is expected to gain an estimated 51,601 more fulltime jobs and Floridians will see an average $1,945 increase in take home pay. For more information on the House Tax Cuts and Jobs Act visit: www.fairandsimple.gop.
###