Press Releases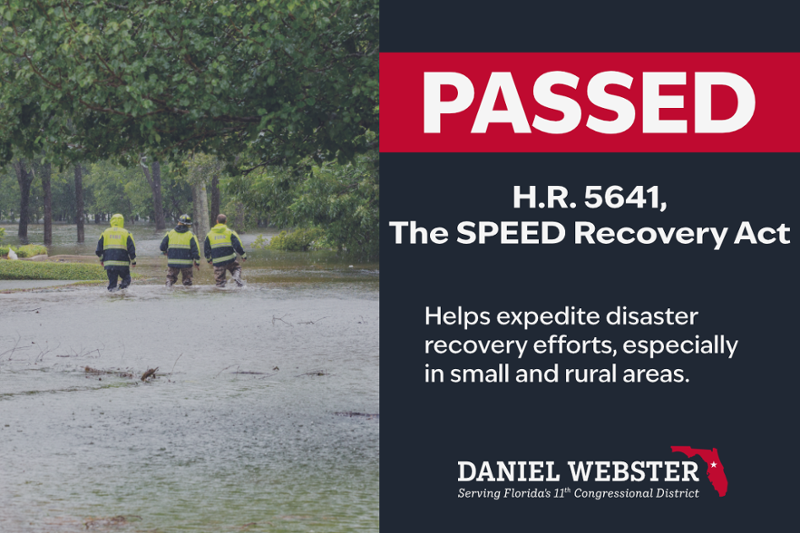 Washington, D.C. —
Today, the U.S. House of Representatives passed H.R. 5641, the
Small Project Efficient and Effective Disaster (SPEED) Recovery Act
. This legislation was first introduced by Florida Congressman Daniel Webster, R-Clermont, with Rep. Sam Graves (R-MO) and bipartisan leaders on the Transportation and Infrastructure Committee. This bipartisan bill cuts red tape and helps expedite disaster recovery efforts, especially in small and rural areas.
"The passage of this legislation could not come at a more critical time,"
said Rep Webster
. "I've heard from communities in my district about the paperwork burdens and increasing denials over technicalities, and I hope the commonsense adjustments in this bill will improve the process.
With Hurricane Ian making landfall in Florida, it's vital that our disaster recovery efforts deliver expedited relief to communities in need."
"The
SPEED Recovery Act
will streamline the process to provide Floridians, particularly those in rural communities with small projects, with speedier disaster recovery assistance."
Background Information
H.R. 5641 updates what the Federal Emergency Management Agency (FEMA) considers a "small project" under the
Stafford Act
to $1 million. This is the first adjustment in nearly three decades and reflects inflation and rising repair costs. Increasing the small project threshold allows communities to recover faster and allows FEMA to focus more of their time and resources on larger, more complex projects that represent 90% of disaster costs.
The
SPEED Recovery Act
is supported by the International Association of Emergency Managers (IAEM), the National Emergency Management Association (NEMA), and the Big City Emergency Managers (BCEM).
###