Press Releases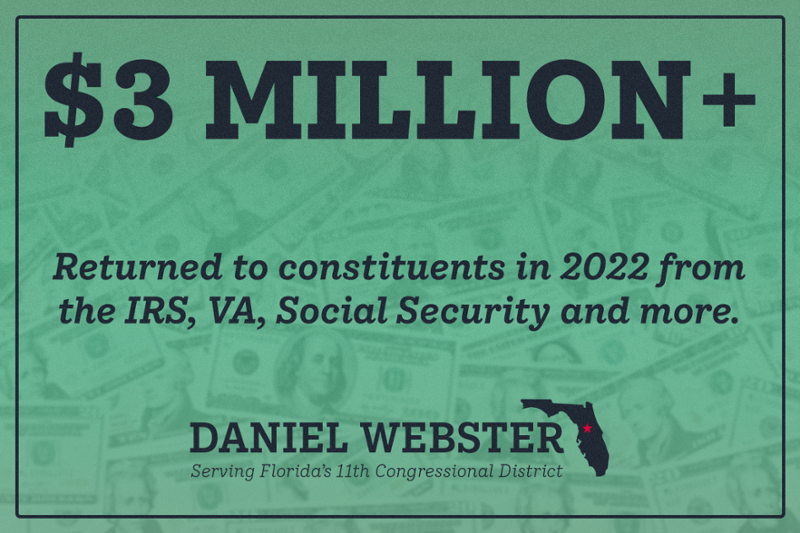 Webster Gets $3 Million to Constituents
Leesburg, FL – Today, Florida Congressman Daniel Webster, R-Clermont, announced that from January – September 2022, his office has gotten federal agencies to return over $3.7 million owed to constituents. These are constituents who contacted his office for help with issues before the IRS, VA, Social Security and more.
"Providing my constituents with first-class assistance with issues involving federal agencies is one of my top priorities," said Rep. Webster. "Too often, Americans attempting to secure the veteran benefits, IRS or Social Security payments they have earned are met with delays. I am pleased that we have been able to intercede on behalf of so many constituents to ensure they receive the services and compensation they have earned."
Webster's constituent services staff work diligently with agency liaisons on a constituent's behalf to answer questions, find solutions, or simply attempt to cut through the red tape. Webster's office recently helped a veteran in the Villages with his VA claim relating to Agent Orange exposure. After Webster's involvement, the claim was resolved and included a retro payment of more than $80,000. Since January 2017, working on behalf of voters in his district, Rep. Webster's office has gotten more than $18 million returned to constituents from owed tax returns, pension benefits or other retroactive payments.
Webster added, "I am committed to continuing to work to improve the quality, effectivity and efficiency of our federal agencies."
If you are a constituent in Congressional District 11 in need of assistance with a federal agency issue, call 352-241-9220 or visit https://webster.house.gov/casework.