Press Releases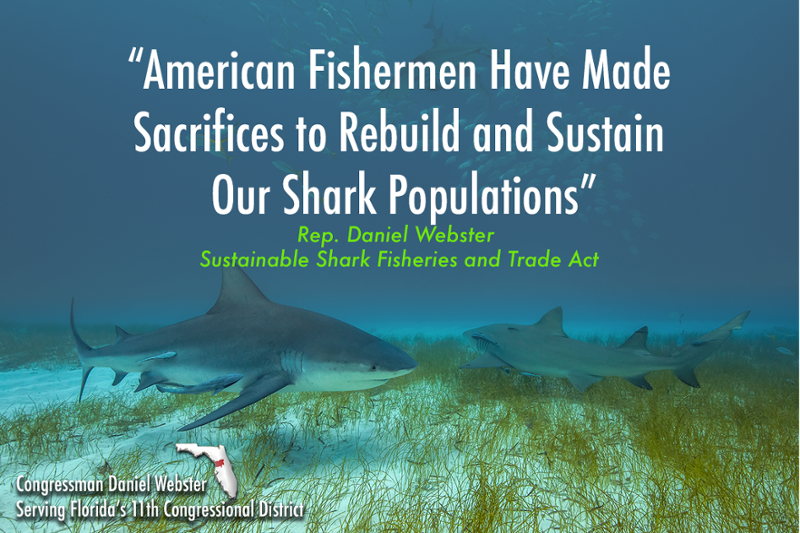 Webster Leads Reintroduction of Shark Trade and Conservation Bill
Washington, DC - Florida Congressman Daniel Webster (R-Clermont) has introduced The Sustainable Shark and Fisheries Trade Act of 2021 (H.R. 3360). Co-introduced with Reps. Kevin Calvert (R-CA), Jason Crow (D-CO), Matt Gaetz (R-FL), Ted Lieu (D-CA), Brian Mast (R-FL), Bill Posey (R-FL), Greg Steube (R-FL), Jeff Van Drew (R-NJ), and Don Young (R-AK), this bipartisan bill provides a commonsense solution for shark trade and conservation.
"As a Floridian and member of the House Natural Resources Committee, responsible oversight of our nation's wildlife, environment, and fishing industry is one of my priorities," Rep. Webster said. "American fishermen have made sacrifices to rebuild and sustain our shark populations. In the United States, we hold high standards for conservation and fishery management. "
H.R. 3360 would require any country that seeks to export shark, ray, and skate to the US to first demonstrate it has a system of science-based management to prevent overfishing and a prohibition on the practice of shark finning. The country must also receive certification from the National Oceanic and Atmospheric Administration that its fisheries management policies are on par with US practices. By holding imports to the same standards that domestic fisheries already meet, this bipartisan legislation levels the playing field for our fishermen and helps maintain vibrant and economically-viable fishing communities, both on U.S. shores and around the world.
This commonsense solution is supported by conservation and fishing organizations across the country including, Mote Marine Laboratory, Florida Fish and Wildlife Conservation Commission (FWC), Palm Beach Zoo, SeaWorld, Zoo Miami Foundation, Florida Aquarium, Southeastern Fisheries Association, Directed Sustainable Fisheries, and the Wildlife Conservation Society.
U.S. Senator Marco Rubio, along with Senators Rick Scott (R-FL), Mike Braun (R-IN), and Bill Cassidy (R-LA), have introduced the Senate companion to this bill.
###