Tax Savings Spending Survey
How do you plan to spend your new tax savings?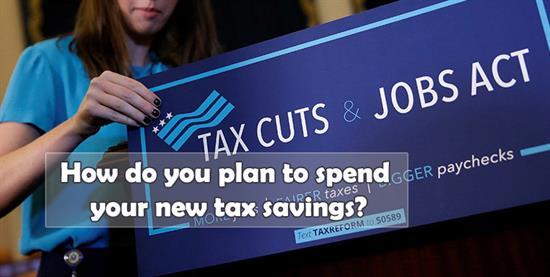 It's tax season. Good news is this is the last time you will have to file taxes under the old, unfair, tax system.

Thanks to the Tax Cuts and Jobs Act.
This plan will double the standard deduction, which according to IRS data more than 80% of my district claim when they file their taxes. A typical middle-income family of four will see a tax cut of $1,678. We also lowered individual rates, doubled the child tax credits, and preserved key tax deductions.
Small businesses also get tax relief with a new 25% rate, as well as relief from the tedious depreciation schedules that caused accounting nightmares for business owners.
This relief will be your reality when you file 2018 taxes next year.
Last month, new pay withholdings went into effect. This allows hardworking Americans to keep more money to save, invest or spend as you see fit.
Taxpayer dollars do not belong to Washington – they belong to hardworking Americans. This is your money and you – not Washington bureaucrats – best know how to spend it.
A constituent in Hernando County recently shared that he recalculated his 2016 taxes as if they were his 2018 taxes and his calculations came out over $4,600 to the better. He emailed me saying, "Thanks for your efforts to save money...I will use the savings to go back into the economy, help out less fortunate folks."
How do you plan to spend your new tax savings?
Note: Fields marked with an * are required.