Donate Convalescent Plasma
Donate Plasma Today
According to the FDA, if you have recovered from COVID-19, the antibodies in your plasma could help others who contract the virus.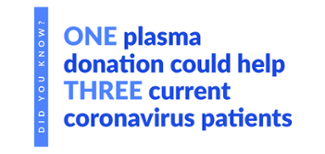 Public health information suggests that Convalescent Plasma has the potential to lessen the severity or shorten the length of illness caused by the coronavirus.
If you have fully recovered from COVID-19, please consider donating your plasma to help others.
Donors must meet these requirements:
You are at least 17 years old and weigh 110 lbs. Additional weight requirements apply for donors age 18 or younger.
In good health. You generally feel well, even if you're being treated for a chronic condition.
Have a prior verified diagnosis of COVID-19 but are now symptom free.
COVID-19 convalescent plasma must only be collected from recovered individuals if they are eligible to donate blood. Individuals must have had a prior diagnosis of COVID-19 documented by a laboratory test and meet other donor criteria. Individuals must have complete resolution of symptoms for at least 14 days prior to donation. A negative lab test for active COVID-19 disease is not necessary to qualify for donation.
Donation sites within and near my district can be found here and at the below links as well.