Tax Rebates for Individuals, Families, and Seniors
Third Round of Economic Impact Payments
The IRS has begun sending economic impact payments to eligible taxpayers in accordance with legislation signed into law on March 11th. Visit the Get My Payment tool to check on your payment.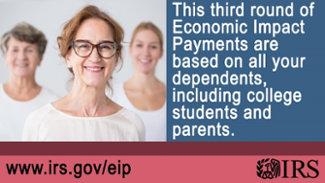 Most eligible individuals will receive the EIP via direct deposit.
First payments will have an official pay date of Wednesday, March 17th.
Eligible recipients who do not receive the payment via direct deposit can expect payments in the mail in the next several weeks.
The IRS will not add payments to existing EIP debit cards.
Most Social Security and other federal beneficiaries will receive this third payment the same way as their regular benefits – a payment date for will be announced shortly
Taxpayers who have already filed 2020 returns and included unemployment benefits are urged not to take immediate action to amend their return. Further directions are expected from the IRS soon. For more information please visit the Frequently Asked Questions provided by the IRS, including how to update Direct Deposit and what to do if you have an address change.
If you have more questions, please contact my office at 352-241-9220.
First and Second rounds of Economic Impact Payments for Individuals, Families, and Seniors
The bipartisan COVID-19 relief package passed on December 21, 2020, provided:
$600 per individual
$1,200 per couple, and
$600 per child (under 17 years, with a valid SSN).
These funds were disbursed beginning Monday, December 28, 2020.
The CARES Act passed and signed into law in March 2020 provided anyone with a social security number with a one-time tax rebate of $1,200.
These funds were sent to those with incomes at or below $75,000 for individuals, $112,500 for head of household, and $150,000 for married couples
For more updates on the coronavirus and what's happening in Congress, subscribe to my newsletter
Economic Impact Payments FAQ
*Courtesy of the IRS
How can I find out about the Expanded Child Tax Credit?
Information on this will be available soon at https://www.irs.gov/
How can I check the status of my check?
Visit https://www.irs.gov/coronavirus/economic-impact-payments and click on the Get My Payment link.
Questions about the "Get My Payment" portal?
Visit the IRS' Get My Payment Frequently Asked Questions page for answers to questions about using the application, eligibility, payment amounts, and more.
I received a Notice 1444 or a payment date from Get My Payment, but have not received my check. What can I do?
You may submit a contract tracing request with the IRS. Please visit this link and Q.55 for steps to submit a tracing request on your payment.
What is needed to submit a tracing request mention above?
You must have first received a Notice 1444 or payment date from "Get My Payment" and it must be
If these all apply then, according to the IRS, you can submit a request in the following ways:
Or
My Address Changed. What Do I do?
haven't already done so. The fastest way to file the return and have your address updated, is to file it electronically.
If your payment can't be delivered to you for any reason, it will be returned to the IRS. To get your payment reissued:
Read additional FAQ on the tax rebate program here.
FAQs on the "Get My Payment" portal are available here.